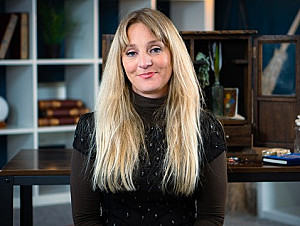 I am a sympathetic and down to earth empath with 20 years' experience in Tarot. I have experience in Life Coaching, Dream Analysis, Remote Viewing and spiritual healing.
I am a natural empath and I connect with my clients energy using my heightened spiritual abilities to get to the root of the problem. I will always remain open minded, sympathetic and compassionate. In identifying the issues that are holding my client back, I can offer guidance for the problems at hand, offering an empowering result enabling my client to move forward positively and with direction.
I love Tarot because it gives insight. As an artist myself, I see things visually, so the artwork in the cards is incredibly important. The imagery helps me to engage with my spiritual insight and I am able to convey this message easily with my clients. I am a bachelor of fine art and feel my sensitivity to the inner workings of our mind helps me to reflect on life on a deeper level. I am pretty well read on dream analysis too, so often ask my client's about their dreams. At times, this can give a different perspective on what is going on in their lives too.
I like to ensure that my callers are comfortable and well informed about what a reading with myself entails. Most importantly, they are relaxed and understand that we are all in control of our own fate and there is nothing scary about using a spiritual connection to look at our lives. Finally, I like to find out what they want to get out of the reading and that they are happy to proceed.
I am a mother and I love going out into nature with my children and learning about the wonders of the world. I am an artist as well, and putting my creativity into drawing, painting and finding weird and wonderful things in charity shops has become a bit of an unhealthy obsession!
My favourite inspirational quote is "Do unto others as you would have them do unto you."
This saying is represented in all religions and beliefs in different ways. If we all loved and lived like this, our world would be a better place.
Down-to-earth, Uplifting, Sympathetic
Status: Available
Rating: 4.5652