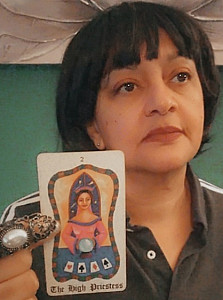 Hi there, I'm Priestess, and thank you for visiting my profile. I am a natural psychic and card reader, and I describe myself as a people person, as I love being around and talking to all sorts of people. I have been reading for over 10 years, and my preferred areas to focus on when speaking with a client are love and relationships, career and work readings, and general readings.
When you come through to me for the first time, I will ask you to make yourself comfortable in your seat, and to take a few deep breaths to allow you to relax. I will do the same, as I feel that by relaxing, the connection between us becomes deeper and more open. I will then explain briefly how I work, before asking you if there are any areas that you would like me to focus on, before beginning your reading.
During my readings, I will mainly use my natural psychic abilities in conjunction with a deck of playing cards. I find that these can allow me to gain a deeper level of insight into a situation than more traditional tools. Depending on the situation, I sometimes connect with them slowly, one card at a time, however occasionally I can also connect with the whole pack at once.
I remember that ever since I was a young girl, I could often pick up on some things that apparently others around me could not, which could sometimes result in a great deal of embarrassment. However, as I grew older, I decided to read and study the subject in order to develop, and was eventually drawn to the playing cards and runes. Since then, I have developed my psychic skills further to become the reader that I am today, and still use the same tools!
Besides my psychic work, I also enjoy sewing and making home decorations, as well as spending time with my friends and family. I am particularly inspired by a line from the Nat King Cole's song 'Nature Boy': "The greatest thing you'll ever learn, Is just to love and be loved in return." So, for a positive and straightforward reading, give me a call today!
Status: Offline
Rating: 4.6429