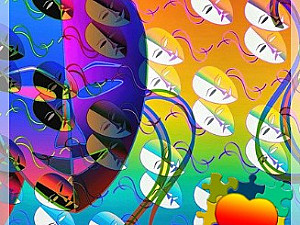 "The inward journey is about finding your own fullness, something that no one else can take away." – Deepak Chopra
Hello, I'm Masquerade and welcome to my "about" page.
Life is not a puzzle, if you know the missing piece. Let me unravel those areas of concern in your life with the help of my Psychic and daily life experiences.
I am a natural psychic empath and Tarot card reader with almost 10 years of experience. I can bring spiritual healing to you through reiki and crystals, along with insight in many general areas of your life.
I have experience with Angel Cards, Chakra balance and Astrology. I often like to use my knowledge on astrology to see what can be gained from a person's date of birth and the small astrological aspects that are part of their unique makeup as a person; My favourite tool to use however, is my pendulum. As well as using it for guidance, I can use the pendulum as a channelling tool for long distance spiritual healing too!
A bit about my personality – The biggest passion that I have, originates in painting. Variating styles is fun, though I mostly tend to gravitate towards painting still life, landscapes and wild, exotic animals. When not painting I'll go out into nature, and take in all of my surroundings. It helps me to reconnect with my abilities, energizing my base chakra and will often absorb the scenery around me in serene silence. I incorporate this by sometimes going outside to paint, gain inspiration this way to create more on canvas. My favourite hobbies go hand in hand!
I look forward to reading for you!
Status: Offline
Rating: 4.4286